Presenting Companies – 2023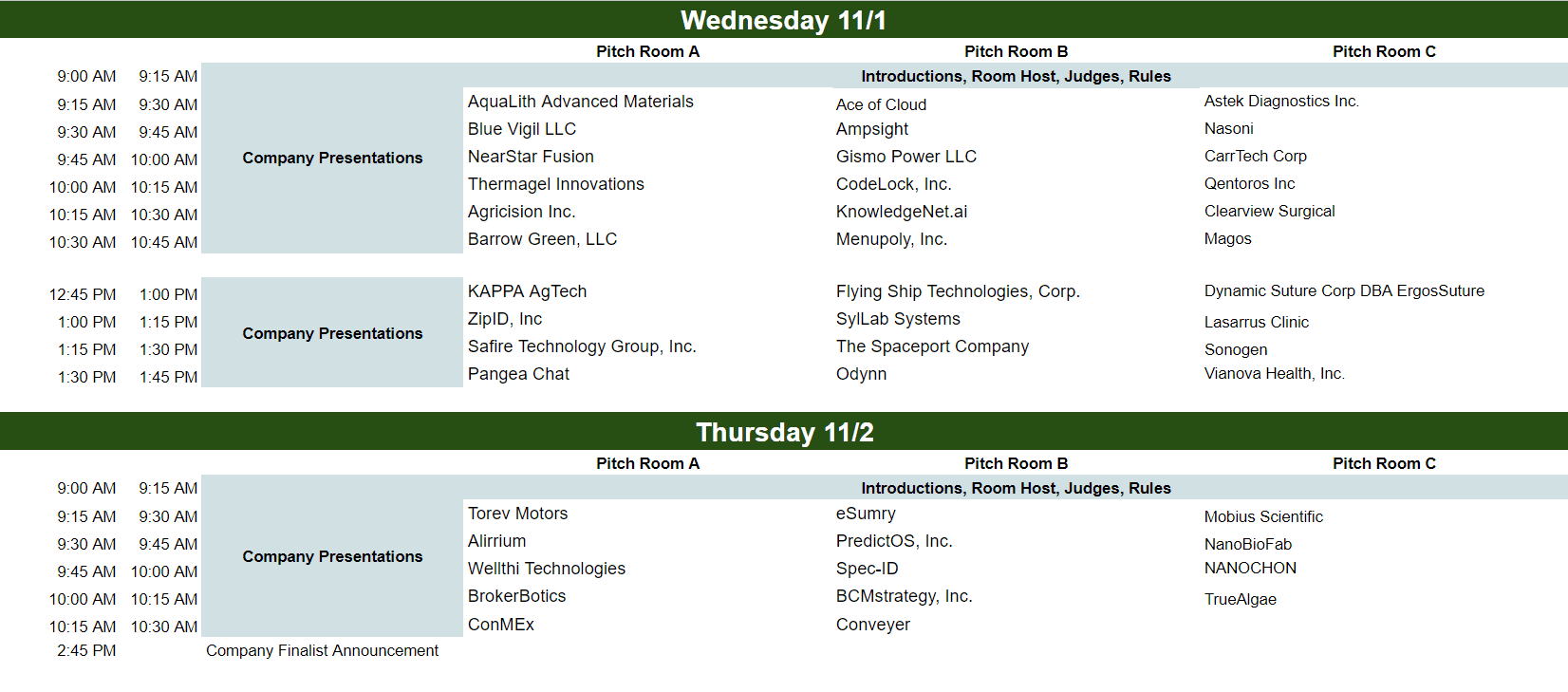 A
ce of Cloud
Ace of Cloud is a Cloud Architecture and Security Company that provides comprehensive solutions for organizations pursuing digital transformation while adhering to regulatory and compliance requirements. 
Agricision Inc.
Agricision, Inc. is an innovative woman-owned, ag-tech company led and driven by farmers. Our core mission is to assist farmers in proactively addressing invasive pests, effectively preventing costly crop damage and profit losses. At the heart of our solution is ScoutX2, an all-in-one scout-sprayer drone that delivers precise pest data to farmers in real-time. 
Throughout the history of agriculture, farmers have upheld their role as stewards of the land, passing down time-tested practices like pest scouting. In the last two decades, agriculture has seen remarkable technological advancements that have boosted efficiency and crop yields. However, the question of when to "spray or not to spray" has remained a persistent challenge—until now. . Agricision is dedicated to providing farmers with the tools they need to safeguard their crops and livelihoods in today's dynamic agricultural landscape. Further, our ability to customize ScoutX2 to detect problem pests (weed, insect, or disease) is a game-changer.
Alirrium
Alirrium is a Robotic Process Automation (RPA) firm founded in 2019.  We help companies realign work by deploying intelligent digitals workers to highly repetitive, rules-based tasks so their human counterparts can focus on higher value-added tasks that help drive their companies' mission. 
SphereOI is an AI development studio founded in 2001. We bring deep expertise in AI engineering, product development, and digital transformation.
Ampsight
Ampsight is at the forefront of AI risk management with its signature solution, Nucleus. Specifically designed for Chief Information Security Officers (CISOs), Nucleus is an AI Risk Management solution that helps Chief Information Security Officers (CISO) ensure AI/ML models are properly used within an organization by automatically generating risk and trustworthiness scorecards and recommendations.  This automation empowers CISOs to make more informed, rapid decisions, thus facilitating a swifter model deployment process.
AquaLith Advanced Materials
AquaLith has exclusively licensed a portfolio of lithium-ion battery patents from the University of Maryland. AquaLith's innovation is the creation of new high-energy-density, low-cost, abundant, and safe materials for the three key materials for lithium-ion batteries – anodes, cathodes, and electrolytes. Materials represent about 70% of the cost of making batteries today, with cathode materials being the single biggest factor, so any strategy to reduce battery costs in a meaningful way must focus on reducing materials cost.
Astek Diagnostics Inc.
Astek Diagnostics Inc. was founded in 2020 to commercialize diagnostics for rapid antibiotic sensitivity. Astek is backed by Y Combinator, Harvard Capital Seed Fund, TEDCO, Wexford SciTech Capital Fund, Maryland Momentum Fund, the NSF, and is a J&J JLABS Blue Knight company. Astek Diagnostics offers two panels, blood, and urine.
Barrow Green, LLC
Barrow Green, LLC is developing a compact, energy-efficient cooling technology, invented at the Army Research Laboratory (ARL), which does not utilize hydrofluorocarbons as a refrigerant. Barrow Green's dual-use cooling technology can be used for both small-scale and large-scale cooling and refrigeration applications. We are an outgrowth of the 2020 Defense Innovation Accelerator program, a program sponsored by the DoD's National Security Innovation Network (NSIN), designed to facilitate the development and deployment of technologies arising from DoD laboratories. We bring together a strong mix of leadership skills, business acumen, and scientific expertise.
Barrow Green has in place a CRADA with ARL pursuant to which Barrow Green and ARL will cooperate in the development of the technology. We also have a license with the Army Research Laboratory for cooling in the following fields of use (1) air conditioners, (2) refrigerators, freezers, and vending machines, (3) automobiles, vans and light trucks, and (4) high performance wearables including personal protective equipment (PPE). We have conducted extensive customer discovery and believe that all fields of use covered by our license have a potential market size more than $1 billion. Our business strategy is to sell cooling units to original equipment manufacturers.
BCMstrategy, Inc.
BCMstrategy, Inc. is delivering value to a growing multi-billion dollar market with data and predictive analytics products designed for ML/AI processes that provide ground-breaking transparency and metrics about government policy. The company's patented process was designed by people who know public policy from the inside and from the top. Backtests show that the company's data anticipates market volatility in at least FX (EUR/USD), S&P, VIX markets. Current products include a generative AI -powered chatbot, a Tableau-powered dashboard, a Bloomberg Terminal App, tickerized data feeds and vectorized embeddings.
Blue Vigil LLC
Blue Vigil is revolutionizing the illumination of nighttime construction sites and emergency scenes. Blue Vigil has created an autonomous aerial light – the ALED – that will make night worksites safer, more productive, and greener. The ALED uses a ruggedized, purpose-built, tethered UAV to position a high-intensity LED array up to 100 feet above a work site. By illuminating the area from directly above, the dangerous glare and shadows that are the main contributors to job site safety incidents and loss of productivity are eliminated. The ALED is man-portable but powerful, generating an 8,000 sq. ft. usable light field that's 2x larger than that of traditional construction light towers. The ALED is incredibly simple to operate, fits easily into a pickup truck, and will replace the noisy, tow-behind, diesel-powered lights with a battery power source.
BrokerBotics
BrokerBotics is the first simple automation platform for income generation using options. Our goal is three steps to income from options: 
Pick your stocks.

Pick a strategy (from a short list of income-oriented strategies) 

Pick your credit / yield.
CarrTech Corp
CarrTech is a medical device company that has developed, patented, and prototyped a novel all-in-one filter device called FROG, Filter Removal of Glass. FROG's is safer, increasing safety for the patient and the healthcare worker by ensuring proper filtration and reducing chance of needle stick injuries. CarrTech is collaborating with strategic partners and preparing for 510(k) class II submission Q4 of 2023. CarrTech's disruptive technology is revolutionizing the filter needle industry anticipating market penetration Q2-Q3 of 2024
Clearview Surgical
We are creating a leading innovation platform to improve surgical care. Our unique service transforms traditional patient images such as CT and MRI scans into 3D, interactive holograms that provide surgeons with superior visualization tools for surgical planning and real-time, multi-user collaboration across surgical teams and remote experts. We deliver "Surgical Modeling as a Service" to surgeons. Clients simply upload patient images to our platform and we return 3D, holographic images that are viewed via third-party devices we supply and our proprietary software.
We offer an immersive 3D experience for surgeons with interactive tools for viewing surgical cases. These tools provide surgeons with unique visualization to create surgical plans that can improve patient outcomes. Additionally, our collaboration platform better aligns surgical teams and optimizes the surgical plan, improving efficiency and efficacy. Remote collaboration can connect expert consultants and eliminates the need for expensive operating room telepresence systems that take up precious space.
CodeLock, Inc.
CodeLock is fundamentally disrupting how secure software development is done around the world. This is why TechCrunch selected CodeLock in September to represent their Disrupt 2023 Cohort as one of the top 200 technology start-ups in the world. 
We all can agree that the world now runs on software, unfortunately the software that we all depend on is under constant attack. In the last three years there has been over a 742% increase in software supply chain attacks. 50% of every company will be a victim of a cyber-attack in the next 12 months. CodeLock is the first and only complete solution to protect software by linking the developers to the code they create, using a proprietary block-chain like function, resulting in the immediate identification of unauthorized changes to software code.
In addition to CodeLock's industry changing security features, organizations can now enhance accountability within their development workforce, providing unprecedented insights and non-repudiation with a digital DNA back to the person responsible for every line of code. Enable compliance with the increasingly long list of new regulations and policies recent Presidential Executives Orders related to secure software development and software bill of materials.
Conveyer
Conveyer is a revolutionary AI platform that ingests unstructured data and quickly generates high-trust, high-accuracy topics, metatags, and new data for AI models. With 80% of the world's content unstructured, Conveyer makes the power of AI more accessible across a wide band of high-value use cases, and it is already trusted and deployed by Fortune 100 companies across a variety of sectors, including automotive, industrial materials and durable product manufacturers. Conveyer's core technology is a powerful demonstration of its ability to transform data into high-trust business applications that dramatically reduce costs and support development of future AI applications by creating pre-packaged, cleaned training data for company-wide digital transformation.
Dynamic Suture Corp DBA ErgosSuture
ErgoSuture is a medical technology company driving surgical innovation through advanced suturing systems. Surgeons design our Roller-Based Suturing (RBS) solutions for surgeons looking for a better needle-handling experience and surgical outcome without sacrificing familiarity or learned know-how. Our solutions can be used in multiple surgical settings, such as laparoscopic and robotic surgery, flexible endoluminal surgery, and transcatheter applications. Our RBS solutions reduce suturing time and improve suture strength through easier, safer, and faster needle handling and control, all while delivering unparalleled outcomes for patients, surgeons, and institutions.
eSumry
Step into the courtroom of the future with us. Founded by a seasoned trial attorney, our company mission isn't just innovation—it's courtroom domination. Every trial lawyer knows the countless hours spent in pretrial prep, meticulously sifting through case files, witness testimony and exhibits to craft winning presentations. We decided it was time for a revolution. Introducing CaseChat™ – the pinnacle of AI prowess that is tailored for litigation. Our state-of-the-art large language models dive deep into case files, surface crucial witness testimony, pinpoint game-changing exhibits, and create formidable arguments in just minutes. Need a case pleading drafted? A summary of sprawling data? A cross-examination of a difficult witness? Consider it done. CaseChat™ shaves off hundreds of hours, catapulting trial lawyers ahead of the pack. This isn't our maiden venture either. It's a leap beyond our debut product, eSumry, which revolutionized deposition summaries. We've taken that legacy, and with our CaseChat™ innovation, we're setting the stage for a litigation revolution.
Flying Ship Technologies, Corp.
From fresh-caught lobsters to pandemic vaccines, Flying Ships improve the lives of billions of people by enabling limitless coastal access. Like hovercraft, our vessels glide above sea level at 10x the speed of ships, capitalizing on green technology and delivering thousands of pounds of cargo at less than 75% the cost of aircraft. Flying Ship leverages bleeding-edge systems, materials, and aerodynamics to soar as the world's solution to the overburdened global supply chain.
Gismo Power LLC
At GismoPower®, our mission is to revolutionize the way we deploy renewable solar electricity. We envision a future where energy production is not only sustainable but also accessible to all, regardless of their living situation. To achieve this vision, we have developed the MEGA® (Mobile Electricity Generating Appliance), a groundbreaking innovation that literally is setting the standard for plug-in solar.
As a portable appliance, the MEGA mobile carport is easier to maintain, repair, upgrade, and protect than a conventional rooftop solar system, at a fraction of the cost. 
A dual-rack MEGA covers the electricity consumption of an average American home at two thirds the cost of rooftop solar. Moving? Hurricane over? Take the power with you.  NO more excuses. 
Instead of consuming electricity, the MEGA generates and feeds renewable solar electricity directly into homes, electric vehicles, and the grid and/or connected battery, all through a simple 240V plug and outlet. This mobile PV-EV charging carport combines a high-power bifacial PV system with a Class 2 EV-Charger, transforming any driveway or parking area into a clean energy hub.
Our innovative PV deployment method is designed to serve the energy needs of underserved "energy prosumers," including renters and those with limited access to traditional solar solutions. We target a wide range of spaces, from commercial and residential driveways to public parking areas. Our market encompasses small businesses, modest family homes, and anyone who desires the freedom to generate renewable energy.
KAPPA AgTech
KAPPA AgTech was founded on a first-principles approach to design for Controlled Environment Agriculture (CEA). Established by Schuyler Milton, a patented inventor with graduate degrees in Biomedical Engineering and Engineering Management, the company emerged from a research pilot farm to focus on solving core issues in CEA. With flagship products like Silicone Substrate and Ventilated Lighting, KAPPA AgTech is committed to reducing energy and labor costs in indoor farming. Silicone Substrate serves as a reusable and sustainable alternative to traditional growing media such as peat, rockwool, and coir, thereby mitigating waste, environmental degradation, and disease propagation. Ventilated Lighting combines LED lighting and ventilation to achieve peak Photosynthetically Active Radiation (PAR) levels while reducing energy 20-50%. By targeting commercial growers in high-density CEA industries, KAPPA AgTech is strategically positioned to influence both the hydroponic and broader sustainable agriculture sectors. The company's innovations hold the promise of setting new benchmarks in operational efficiency and environmental responsibility, thereby transforming the future landscape of sustainable agriculture.
KnowledgeNet.ai
KnowledgeNet.ai is a streamlined AI solution that effortlessly gathers, organizes, and links past, present, and future interactions, revealing valuable relationship insights and actionable intelligence. Empowering teams with the context and historical data they need to discover, manage, and close more deals.
Lasarrus Clinic
LASARRUS is pioneering remote COPD care with WearME, the first wearable matching the precision of gold-standard spirometry for lung function assessments. Addressing the critical gap in early detection and response to COPD symptom onsets, WearME offers real-time insights, even in rural regions. This innovation not only enhances patient outcomes but also diminishes hospital readmissions. Our business model is B2B, operating on a prescription basis where healthcare providers recommend WearME for Remote Patient Monitoring (RPM) services. We collaborate with hospitals through revenue-sharing incentives, and our revenue is sourced from insurance providers like Medicare and Medicaid. Currently partnering with esteemed institutions such as Johns Hopkins, TidalHealth, and Tower Health, we have potential access to over 50,000 COPD patients. In 2022, our Serviceable Addressable Market (SAM) stood at $1.36B, representing 4% of the telehealth sector. With the market expanding at a 14.8% CAGR, we project our SAM to reach approximately $1.8B by 2024.
Magos
Deep tech company active in the advanced human computer-robot interaction (including haptics). Commercial focus in Virtual training and simulation for manufacturing & Industry 5.0. Magos enables users to touch and feel virtual objects via their fingers just like in real life. Magos is a lightweight wearable hand exoskeleton (haptic glove) that accurately simulates the sense of touch in VR. Magos facilitates a natural & immersive experience for VR users, finally making realistic simulations possible—this is critical for VR training for industry 5.0 workers, doctors, pilots & other professionals that require hand precision & muscle memory. Our Mission is to break down barriers between the physical and the virtual world. 
Menupoly, Inc.
MENUPOLY is a SaaS tech company specialized in marketing that helps people decide where – and what – to eat. We motivate restaurants to compete by creating exceptional dishes while we efficiently target customers who are likely to enjoy them. Our tagline is "LET'S FIGURE EAT OUT". People can use MENUPOLY to discover dishes nearby and get personalized dish recommendations. For restaurants, we offer cost-effective, innovative marketing tools to acquire new customers with an online dish discovery & recommendation platform plus unique visual menu displays for outside of the restaurant to attract passers-by.
Mobius Scientific
Mobius Scientific is an early-stage platform biotech company making new biologic therapies for chronic diseases. Our first invention, the Mobius Disc™, is uniquely designed to treat lipid accumulation directly in the diseased tissue. The first product will treat geography atrophy, a high-risk form of dry age-related macular degeneration by developing an intra-vitreal injection. Mobius is the first company to target treating lipid accumulation in the retina to treat major vision loss, and this patented product concept will also treat inflammatory skin disease (intralesional plaque psoriasis) as well as high-risk coronary artery disease (intracoronary lipid-rich necrotic core containing plaque).
NanoBioFab
NanoBioFAB is a leading-edge medical device innovator focused on revolutionizing the field of pathogen diagnostics. We leverage AI-driven smart sensor technology to detect and identify bacterial and fungal pathogens, positioning ourselves at the forefront of the $300 billion global diagnostic testing market. Think of us as the "smoke detector" for infectious diseases, signaling danger even before it's visible. 
NANOCHON
NanoBioFAB is a leading-edge medical device innovator focused on revolutionizing the field of pathogen diagnostics. We harness the power of AI-driven smart sensor technology to promptly detect and accurately identify bacterial and fungal pathogens. This places us at the cutting edge of the $300 billion global diagnostic testing market. In essence, consider NanoBioFAB as the "smoke detector" for infectious diseases, alerting to potential threats even before they are perceptibly evident.
Nasoni
Nasoni is revolutionizing water technology by integrating artificial intelligence and machine learning with state-of-the-art plumbing. Our NSF-certified water filters and patented, award-winning fountain faucets are the basis for our next-gen smart sensor faucet solutions. These are engineered not only for water conservation but also to tackle healthcare challenges, aligning with the United Nations Sustainable Development Goals. As we grow, we're eager to forge international partnerships, advocating technological diplomacy for global challenges.
Backed by NIH NICHD SBIR Phase I and II grants and a pending $2.5m NIA grant, we are engaged in rigorous R&D activities aimed at creating market-disrupting, eco-friendly, user-centric products. Our market validation includes multiple industry awards and successful clinical trials in partnership with Old Dominion University's Monarch Physical Therapy (ODU MPT).
Led by a diverse team of experts, including multiple PhDs and a PMP-certified CEO with decades of experience, Nasoni aims to set new industry standards. Our vision extends beyond being just a company; we aim to be a global symbol of how technology can address societal needs. Nasoni isn't just a company; it's a vision prioritizing both environmental and public health. We aim for a long-term legacy as pioneers in responsible technology and guardians of environmental and human health.
NearStar Fusion
Founded in 2021, NearStar Fusion is an energy startup based in Chantilly, VA focused on creating unlimited clean energy on the grid with our extensive expertise in hypervelocity plasma rail guns to create commercially viable fusion power plants within a decade.  NearStar's approach will leverage existing materials and technologies avoiding the cost and uncertainty of additional research into superconducting magnets and materials.
Led by founder and chief scientist, Dr. Doug Witherspoon, the core science team has worked together for over 15 years and has been awarded over $40M in grants over their careers from agencies including NASA, ARPA-E, Department of Energy (DoE), Virginia Innovation Partnership Corporation (VIPC) and National Science Foundation (NSF).  NearStar's team (via sister company, HyperJet Fusion) has a long-standing partnership with Los Alamos National Laboratory to design and build plasma guns used in DoE programs.
Fusion energy is a long-term investment and NearStar has a practical path to success.  The technical roadmap for NearStar's design provides a number of spin-out opportunities for the plasma rail gun in areas of rock tunneling, medical isotopes and spacecraft propulsion.  Eventually NearStar expects to license the IP and partner with companies to build tens of thousands clean power plants worldwide.
Odynn
Odynn is a wholly independent loyalty optimization company that is built on AI/ML technology to bring transparency, automation, and personalization to a highly fragmented, opaque, illiquid market. Odynn is B2B that provides APIs, white label/ gray label solutions, and co-branded partnerships to our fintech, financial institution, and travel tech partners, who are looking to add industry differentiated offerings for their customers.
We launched the world's first live hotel award pricer, Awayz, with Bilt rewards in mid-September. Awayz currently has full global coverage for every major hotel group (Hilton, Hyatt, IHG, Marriott, Accor, Choice and Wyndham) totaling almost 50,000 hotels for points, cash, transferable points programs, and points as cash pricing. 
We have signed a major contract with Flight Centre to offer Awayz to their partners to grow their business leisure offerings. We have partnered with Duffel to fully integrate into Awayz to provide end to end cash booking and ticketing solutions for our end users and direct partners. We were accepted into the Mastercard Start Path Pulse program, and we are about to close our first client for our soon to launch the world's first full service travel portal (which will include all major airlines and live mileage pricing).
Pangea Chat
Pangea Chat is a web and mobile platform that lets students 'learn a language while texting their friends' and helps educators implement communicative language teaching in beginner-level classrooms.
Classroom language education is broken and, while gamified practice apps can engage short-term, seldom lead to conversational proficiency. AI chatbots are a partial solution but lack human connection, beneficial for engagement, learning and emotional well-being.
Our solution, Pangea Chat, leverages over a decade of R&D in educational games and artificial
intelligence, providing an instant messaging platform that both facilitates communication in the target language while automatically assessing student understanding and delivering targeted instruction.
With funding from the National Science Foundation, Virginia Innovation Partnership Corporation, and Lighthouse Labs, we have successfully developed an MVP and embarked on our first paid pilots this fall. Our initial market is the approximately 570,000 students in beginner-level US
Spanish university courses.
The platform's technology is architected to add new languages rapidly and allow seamless interoperability with popular messaging platforms, ensuring scalability within the global market of 1.2 billion language learners. As such, Pangea Chat is poised to usher in a new era of
efficient, effective, and engaging language learning on a global scale.
PredictOS, Inc.
PredictOS offers unique software to automatically self-diagnose industrial and commercial asset defects to prevent failures. We provide an ideal package for companies to implement Predictive Maintenance (PdM) technology to optimize asset uptime and profit. It uses machine specific proprietary algorithms and AI-based machine learning tools to develop digital twin models to predict remaining useful life. PdM using vibration analysis provides early warning to predict imminent failure. The revenue model will be a combination of cloud base SaaS, leasing asset monitoring program with fixed monthly fees, customized solution based on customer requirements.
We have an experienced team in manufacturing, sales and marketing, and predictive technologies. The team has taken technical products from concept to international markets. We have proven and successfully evaluated the software in large manufacturing, petrochemical environments, and cold storage facility. The current PdM products cannot self-diagnose defects, incompatible with SaaS, based on thirty-year-old technology, and expensive. We will beat competition with superior software algorithms and innovative SaaS model. PdM industrial market is enormous, projected to be $25 Bn by 2028, and growing rapidly. We are seeking $800,000 financing to package software algorithms into an embedded product, develop a website and internet connectivity for SaaS application, provide adequate cashflow.
Qentoros Inc
Qentoros, Inc is a biotechnology company based in Blacksburg, Virginia that is harnessing the power of platelets to treat orthopedic conditions in horses.  Our technology will translate into other veterinary species such as dogs and eventually into human medicine.  
Safire Technology Group, Inc.
Safire Technology Group, Inc. ("Safire Group") emerged in 2020 from a 5-year R&D effort led by the U.S. Dept. of Energy's Oak Ridge National Laboratory (ORNL) and a commercialization effort sponsored by FedTech. Safe Impact Resistant Electrolyte, SAFIRE™, was invented by Dr. Gabriel Veith (Safire Co-Founder & Inventor) through initial funding from the U.S. Government's Advanced Research Projects Agency-Energy.
SAFIRE is the world's first patented shear thickening battery safety technology. SAFIRE is a drop-in electrolyte additive, for any type of Li-ion battery, that prevents fire/explosion during high impact/crash/g-force, and additionally imparts ballistic protection against projectiles. Through an instantaneous liquid to solid phase transformation that occurs during a kinetic impact, the chemical battery process is shut off via the SAFIRE additive, preventing shorting and eliminating thermal runaway, thereby mitigating the risks to people and critical hardware during a ballistic or kinetic event. SAFIRE can be integrated into any Li-ion battery cell, including but not limited to, those used in electric vehicles, electric vertical take-off and landing (eVTOLS) / electric aircraft, electric motorcycles, warfighter communications equipment, Unmanned Aerial Systems (UAS), Unmanned Ground Vehicles (UGV), thermal goggles, warship battery packs, electrified weapons systems or other Internet of Things (IoT) devices.
Sonogen
Sonogen Medical is working to commercialize a next-generation ultrasonic bone fracture healing device, with built-in diagnostic fracture healing capability. We have filed multiple worldwide PCT patents protecting our device and related technologies, and are currently seeking $1.2M in seed funding for a one-year program to complete our commercial prototype device and achieve FDA regulatory approval.
Spec-ID
SPEC-ID has forever changed product data management in the commercial construction industry with centralized accurate data that revolutionizes how stakeholders can search, find, automate, and integrate product information into every workflow to reduce risk and costs. The construction industry suffers from siloed data, manual workflows, and antiquated processes that unnecessarily cost $31B annually or 14+ hours weekly of lost productivity per person due to poor data and miscommunication. Over 30% of all product data is wrong at the time of the bid. SPEC-ID manages the world's largest flooring database with automated applications and proven technology that eliminates 84% of the wasted time most companies spend on miscommunication and re-work. A SPEC-ID subscriber can order project samples and make product labels in less than 30 seconds. Product information and all technical documents are downloaded with a single mouse click into a shareable project file. Over 26 customized, accurate, and on-time, branded technical binders from submittals to closeout documents are created and archived in less than three minutes. Product pricing is also automated with just a few clicks of a mouse and archived for future reference. From start to finish, SPEC-ID streamlines the entire construction process by integrating into industry-leading estimating and ERP software to reduce risk, costs, and rework.
SPEC-ID currently serves the world's largest flooring contractor as well as some of the smallest one and two-man shops in commercial construction proving that technology when done right can be democratized to meet the needs of everyone in the industry. Whether a business is scaling up or down or they simply want to compete unfairly and drive higher margins, SPEC-ID is an industry leader with a proven ROI.
SylLab Systems
SylLab Systems, Inc. – Post-Quantum Security for Networks and IoT. The company, based in Manassas, VA, was founded by cryptography and privacy enthusiasts. The company is venture-backed by the Center for Innovative Technology (VIPC), VentureScope, Marl5G, and Mach37 Alumni. SylLab is the Ignite Grant Winner awarded as a high-growth company with deep technology roots. We care about data-level encryption, post-quantum security, and compliance. 
The Spaceport Company
We build satellite launch pads on ships to solve the problem of launch site congestion.
Thermagel Innovations
ThermaGEL is a Climate tech materials technology startup who is bringing to the market a breakthrough building insulation material that will reduce the energy costs and carbon footprint of new or retrofitted homes and commercial buildings by improving the thermal R value by 100% over existing insulation materials. A spin out from Virginia Commonwealth University and funded by the DOE and DOT over the past five years, ThermaGEL's aerogel nanomaterials are lightweight yet strong and long lasting, moisture and mold proof, fireproof yet low cost requiring only one fifth the Capex to manufacture than other aerogels. 
Torev Motors
Torev Motors is an Arlington, Virginia-based startup pioneering the next generation of electric motors for the transportation space. Torev's patented, first-of-its-kind double axial flux motor enables highly efficient performance and offers a host of advantages over traditional EV motors, including dual motor operation to extend range and save on emissions, a 50% reduction in rare earth consumption, and cost-effective modular design.
TrueAlgae
TrueAlgae's cutting-edge microalgae cultivation system comes from years of research by world class engineers and scientists, allowing for high quality, large scale, affordable and safe production of algal metabolite products. TrueSolum® is an organic and proprietary liquid used in agriculture with the unique value proposition of not relying on biomass production. Instead, we capture the useful metabolites expressed by the algae as it grows. These metabolites stimulate the natural microbial activity in the soil through signaling bacteria and fungi to release key macro and micronutrients that are sometimes bound in the soil and unavailable to the crop. TrueSolum enhances proliferation of specific beneficial microbes by up to 1,000%. Field trials in 2022 demonstrated that TrueSolum consistently increases nutrient uptake of phosphorus, iron, zinc, and magnesium by over 20%.
Vianova Health, Inc.
Vianova Health is an award winning remote patient monitoring AI platform focused on serving cardiology and endocrinology practices.
With twenty-seven million people currently eligible to participate in Medicare reimbursable RPM programs, and only 7% of those eligible patients have ever participated in RPM, the market is wide open for a comprehensive solution.
Our platform was designed based on the principles of habit formation and behavior change developed by Stanford Behavior Design Lab's founder and director, BJ Fogg. We have worked with Kaiser Permanente, and partnered with Lenovo and Google to build a unique AI model designed to nudge thousands of patients across multiple states towards better health.
We believe that fundamentally healthcare is a habit problem. Through our unique digital and behavioral approaches we have simplified the patient experience to just one interaction per day, incorporating cellular biometric devices, a range of sensors, and an AI model to prompt patients without overwhelming them. Additionally, we have developed a secure SMS platform to facilitate easy communication between patients and care teams.
Vianova is at the forefront of addressing the habit problem in healthcare, transforming the way chronic diseases are managed and empowering individuals to lead healthier lives.
Wellthi Technologies
Wellthi transforms mobile banking for millennials, Gen Z, and multicultural customers with a B2B savings app and wallet. It effortlessly integrates into any mobile banking app, and financial institutions can co-brand it to boost account acquisition cost-effectively. Early adopters like Citizens enjoy 200%+ higher conversion, engagement, and retention rates, surpassing industry standards by 59%.
ZipID, Inc
Problem. Every new hire in the U.S. is required by law to complete a Form I-9 within 3 days of hire. Employers who do not complete the Form I-9 for each new hire may be subject to Department of Homeland Security Immigration and Custom Enforcement's worksite enforcement audit and heavy fines, with a range of $234/hire to $2332/hire; the highest fine was $95 million. Yet, compliance is not easy. Most employers use Human Resource Information Systems (HRIS) where I-9 completion issues are manifold.
Solution. ZipIDapp is an I-9 automated SaaS solution that solves issues of compliance, speed, accuracy, ease of use, and privacy for employers and new hires, both of whom must complete portions of the I-9. Customer discovery has verified that ZipID's ease of use to solve a current employer multi-faceted headache is a current market need. It has also made clear that front end I-9 solutions today are manual, slow and inaccurate. We are solving these issues, while incorporating new government requirements from July/August 2023.
Workflow. The employer sends a url link request from the web-based employer portal at zipidapp.com to a new hire during onboarding via text or email to complete the I-9 digitally. Today that is via an Apple app. We are converting the Apple app to a more sustainable and accessible web app available on any device, with no application to download or Apple updates to sustain. Since we have learned that HRIS systems do not collect data to complete the I-9 well, our current efforts are focused on improved frontend capabilities and experience.
Partners. There were 76.4M hires last year. Employers who hired 50.7M of these new employees are our ultimate user, as these are known to be compliant with I-9s. We estimate 4x more profitability if we partner with HRIS's as distributors via our B2B API, available by spring 2024. However, we need at least a handful of employers using ZipID to partner with HRIS's, as this is the way into this market. Our B2B API will enable direct integration of the completed I-9 into HR/I-9 SaaS tools already used by employers. The value to most end customer employers will be through selling to the HRIS platforms employers use now.